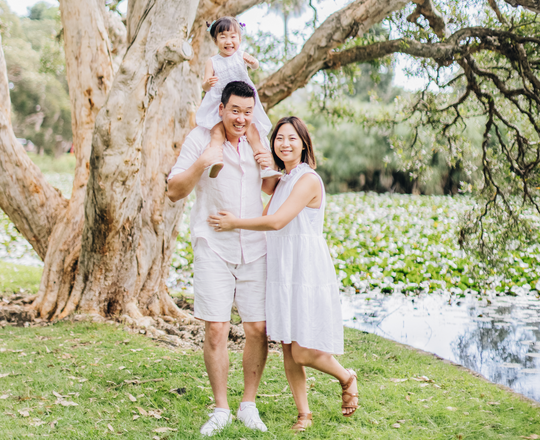 Nursery Essentials To Brighten Your Day
Hello! We are Bubzi Co, a baby care company created to help new parents, like you.

Established by husband and wife Elijah and Angela in Sydney, Australia, we create solutions that genuinely help you prepare for and to take care of your newborn, with innovative designs and quality materials that result in products that help make your day a little easier, but also filled with priceless memories.
Our Mission
To help all parents feel happy, prepared, confident, safe and knowledgeable about what's to come in their next chapter of life.
Our Partnership with Postpartum Support International
Did you know 1 in 7 women and 1 in 10 men experience postpartum depression?
At Bubzi Co, we're passionate about helping you navigate parenthood for
the first time, and this includes looking after your mental health.
While many women experience some mild mood changes during or after the birth of a child, 15 to 20% of women experience more significant symptoms of depression or anxiety.
However with the right informed care, moms can prevent a worsening of these symptoms and can fully recover.
There is no reason to continue to suffer and feel alone.That's why we donate a portion of our sales revenue to Postpartum Support International on an annual basis as of November 2017.
Useful links:
The Facts: http://www.postpartum.net/learn-more/pregnancy-postpartum-mental-health/

Get Help Now - Your Local Area
http://www.postpartum.net/get-help/locations/

Donate Online
http://www.postpartum.net/about-psi/donate-to-psi/

If you have any questions about our partnership with PSI, please contact us.

Our Partnership with B1G1
With every Bubzi Co purchase you're given the choice to allocate our donation to either PSI or B1G1.
This is because we believe in supporting mothers around the world.

Our B1G1 donation goes to the Bombay Mothers and Children Welfare Society in India to give a pregnant mother maternal care, which includes proper prenatal healthcare and vitamins.
With your help, we have given over 20,000 days of maternal care through B1G1.If you have any questions about our partnership with B1G1, please contact us.

Bubzi Co x Baby2Baby One For One Program
We've partnered with Baby2Baby to help parents in need in the USA.
For every purchase on our website, we donate one of our Premium Nasal Aspirators to a family living in poverty, through this amazing organization. Nasal Aspirators are an essential for every baby, so we're grateful to be able to help new parents in need across the USA.
Find out more about Baby2Baby here.