Bubzi Co Soothing Sleep Penguin
| | |
| --- | --- |
| Buy any 2 Soothers | 10% OFF + Free Shipping |
| Buy Any 3+ Soothers | 15% OFF + Free Shipping |
| Buy matching crib bedding set | 20% OFF bedding set |
Finally get the sleep you need and deserve with a Bubzi Co Sleep Soother.
Our best-selling all-in-one baby sleep solution - a white noise machine, lullaby music box and a starlight projector contained within a plush toy lovey. 
✨ New & Improved with a Cry Sensor and 20 soothing sounds.
1. Insert the batteries into the music box with the little screwdriver included

2. Press the 'ON' button to start the music, Scroll through 20 songs with the 'ARROW' button

3. Press the 'LIGHT' button to turn lights on for a starlight projection

The Soother will now play for 30 minutes on your chosen sound and light on/off. It will turn OFF automatically after this time.

4. Press the 'CRY SENSOR ON' button to turn on the cry activated sensor. It will activate after 30 sec of continuous crying, and play sound/light for 5 minutes.
Now With Cry Activated Sensor and 20 Soothing Sounds!

Automatic Cry Sensor - Activates when baby cries to play sound and light for 5 minutes. Relaxing Songs + Birdie Tweets + Mama's Heartbeat – Choose between a relaxing bird song, a familiar heartbeat sound, or sleep melodies that help your baby drift off into dreamland within minutes. Turn on the lullaby sound machine, whisper goodnight, and walk out the room – the sleep machine will automatically switch off after 30 mins.

Gentle Projector Nightlight Keeps Children Calm – The mesmerizing soft galaxy light projector methodically cycles through red, green, and blue stars. The calming lights will even help those babies who fight to keep their eyes open. We've even included batteries and a small screwdriver so you can use the baby elephant soother right out of the box!

Use It Everywhere – With the Adjustable strap, Take this shusher sound machine on vacation, to grandma's house, put it in the stroller when out for a walk, or use it in the car to calm your baby during long rides. The Elephant portable baby soother will become your little one's best friend, helping them stay calm and relaxed even when overtired and super cranky. It's almost like magic!
Choose from these local USA shipping options:

Standard Delivery time is within 7 business days (Free if you spend over $50)

Expedited Delivery is within 2-3 business days.

Priority Shipping is within 1-2 business days.
View full details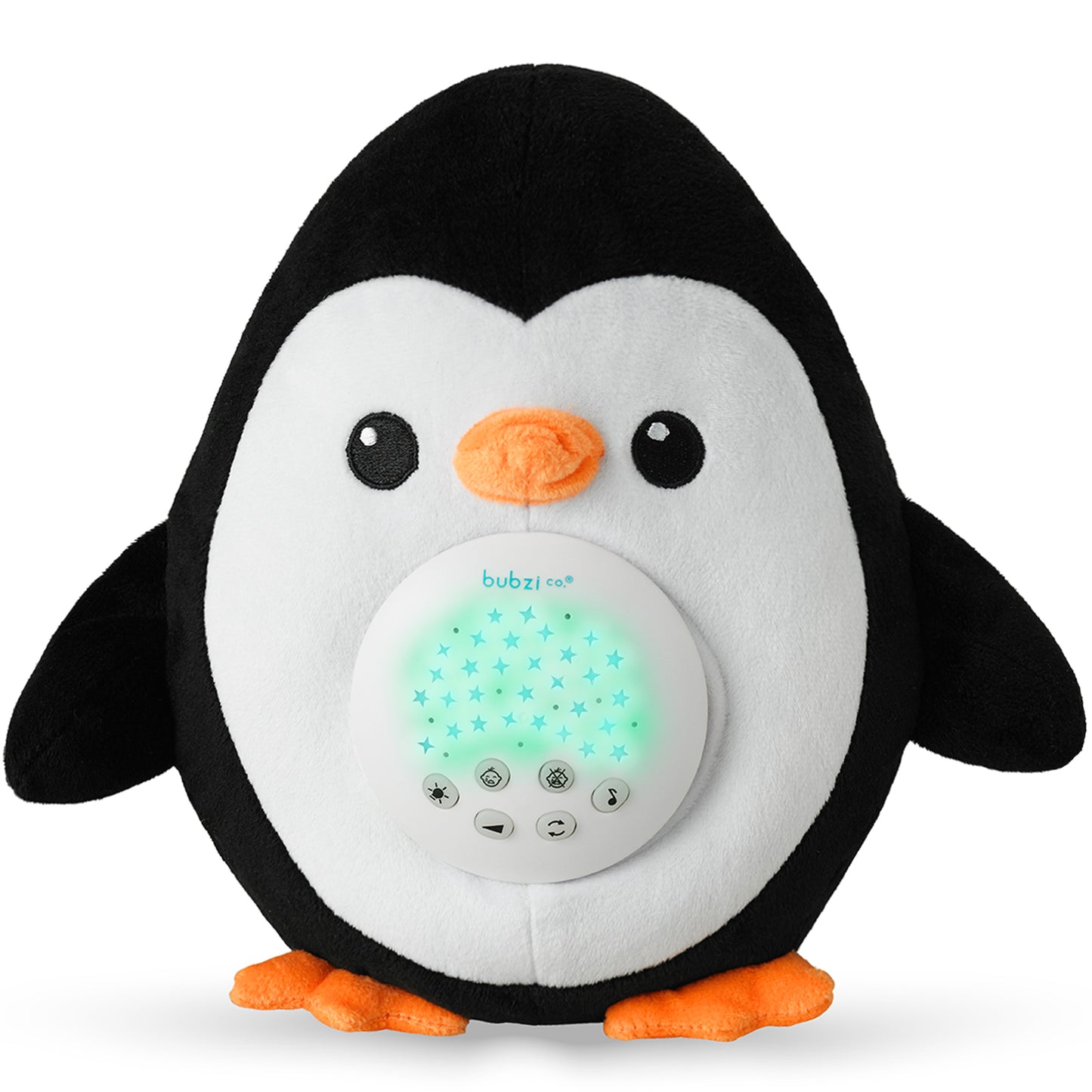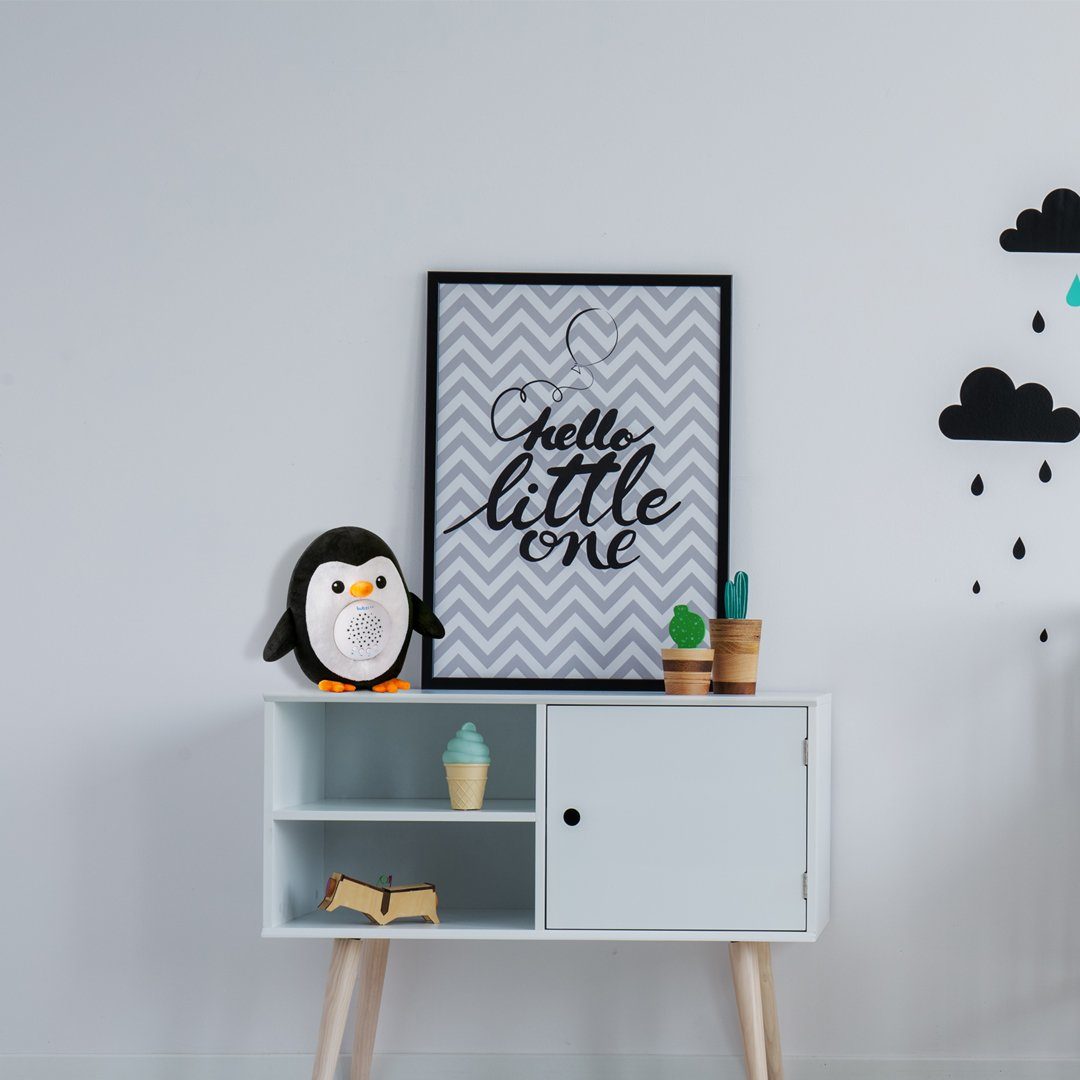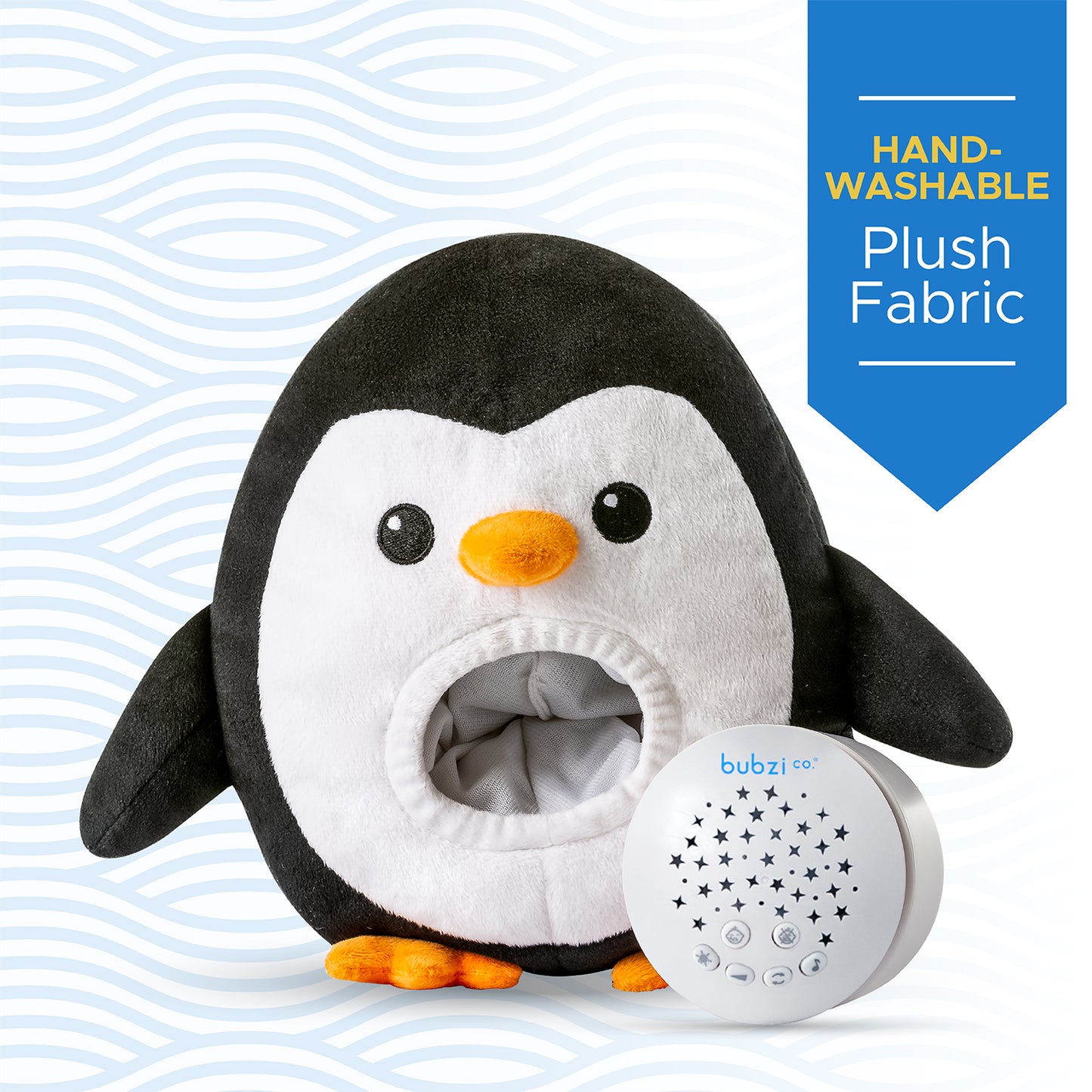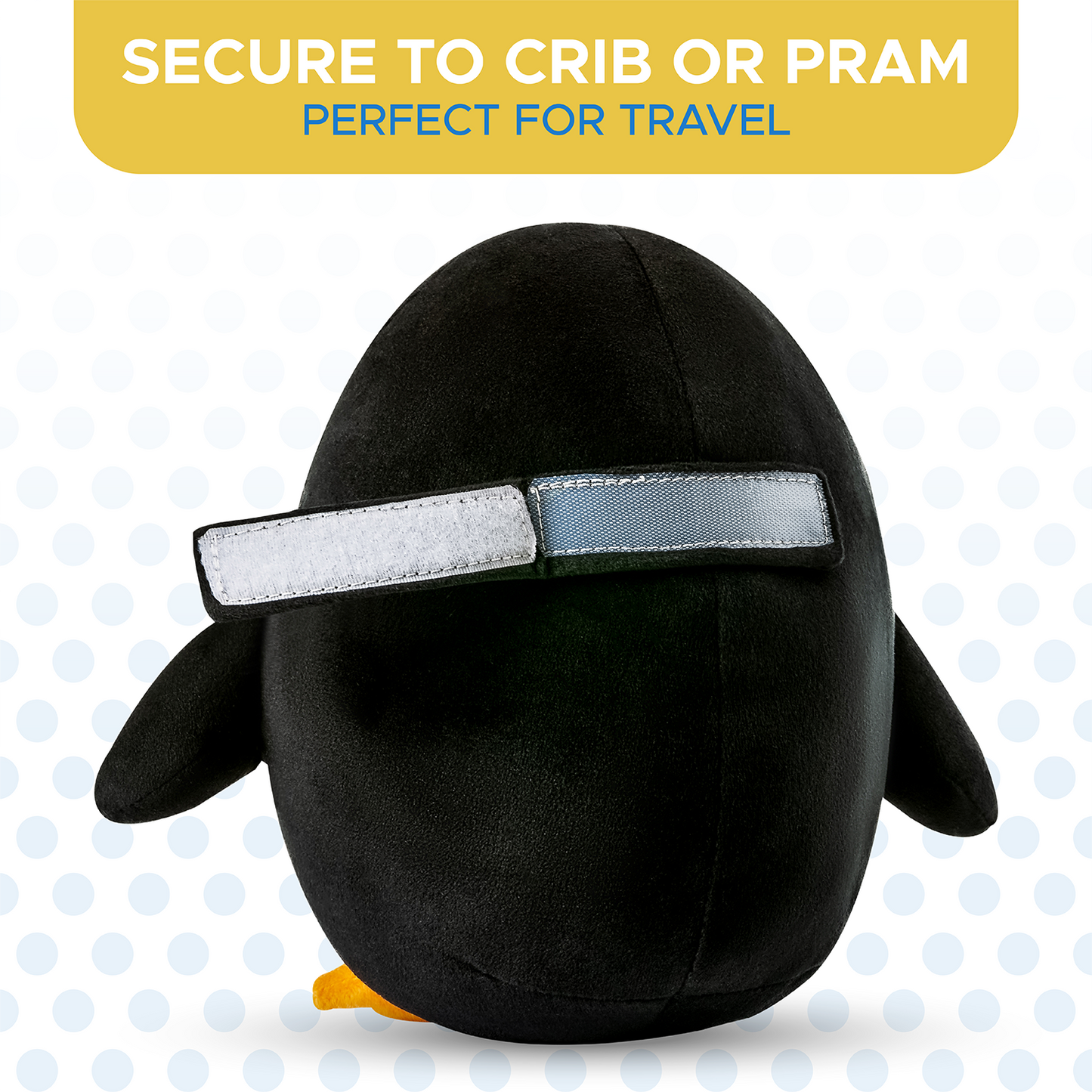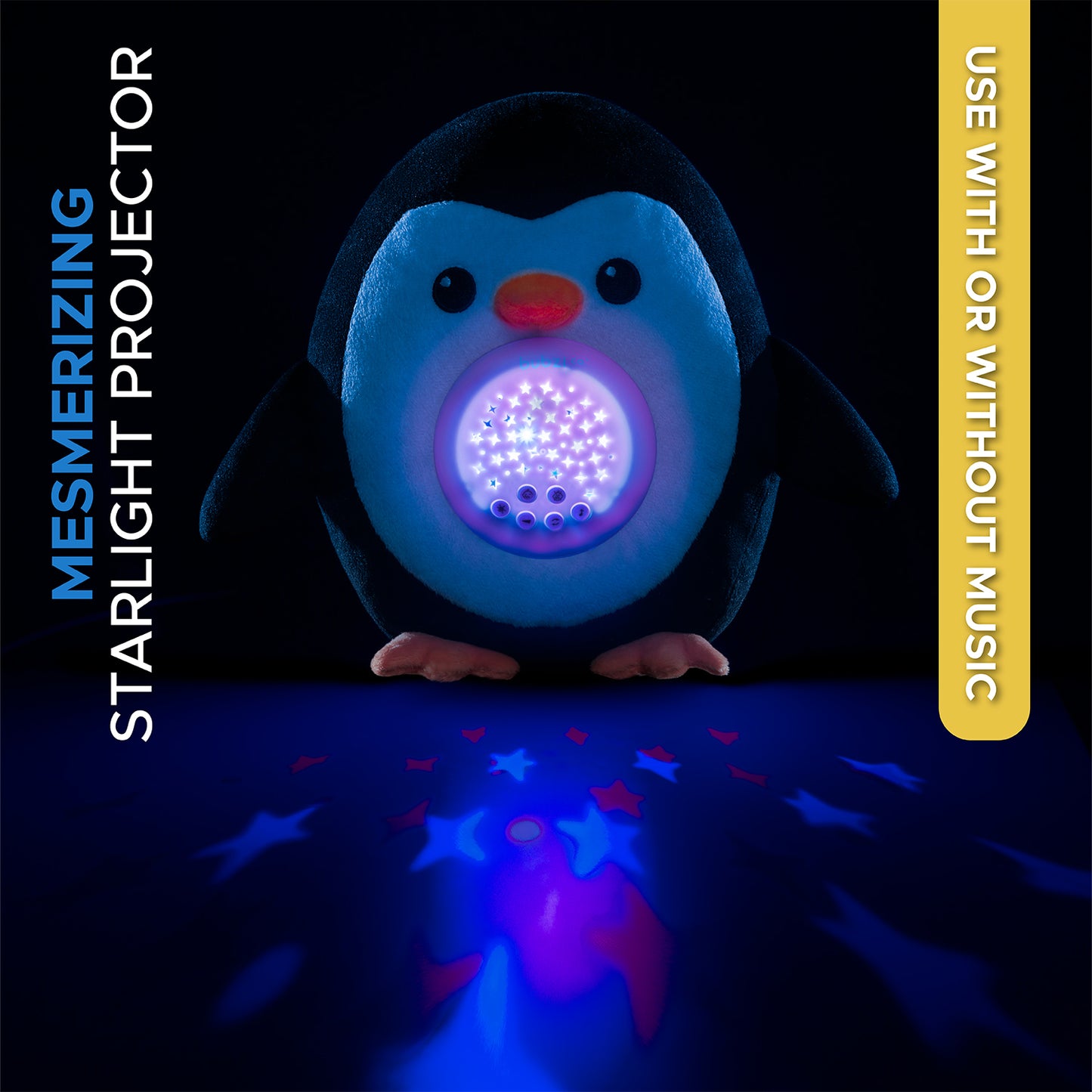 Bubzi Co Soothing Sleep Penguin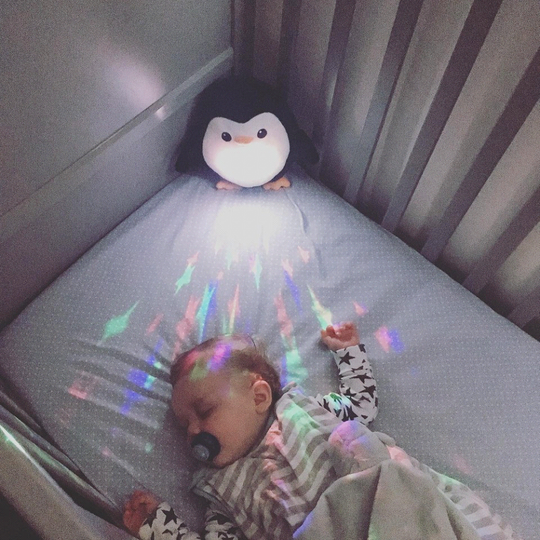 Sweet, Snuggly, Soothing Sleep
Calming lullabies accompany mesmerizing rotating galaxy lights, keeping little ones content, safe and relaxed as they drift off to sleep. Perfect for nurturing healthy sleep habits that help kids stay asleep (priceless!) - no rocking, walking or pleading required.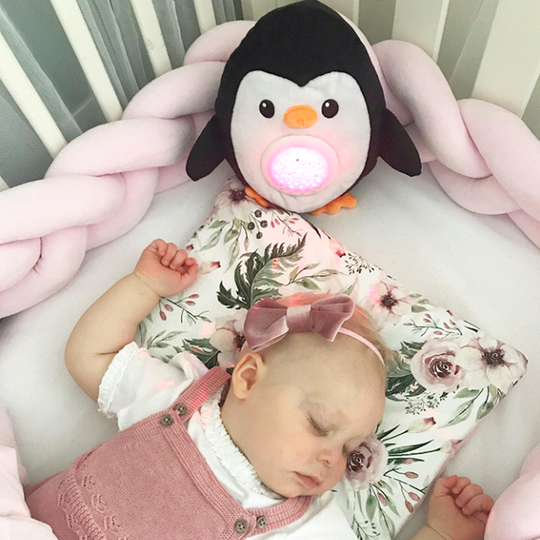 Choose White Noise or Lullabies
Turn on the sound machine, walk away and experience peace of mind knowing your babies is minutes from drifting into dreamland. White noise, 10 relaxing songs, gentle heartbeat sound and quiet bird song quickly lull tired eyes to sleep in 30 minutes before automatically stopping so you don't need to creep into the nursery to turn it off.
Babies Love Starlight Projection
Projecting an enchanting, fading constellation of star lights colors on dark ceilings or walls – the perfect baby nightlight projector for calming anxious minds, even when it's not bedtime.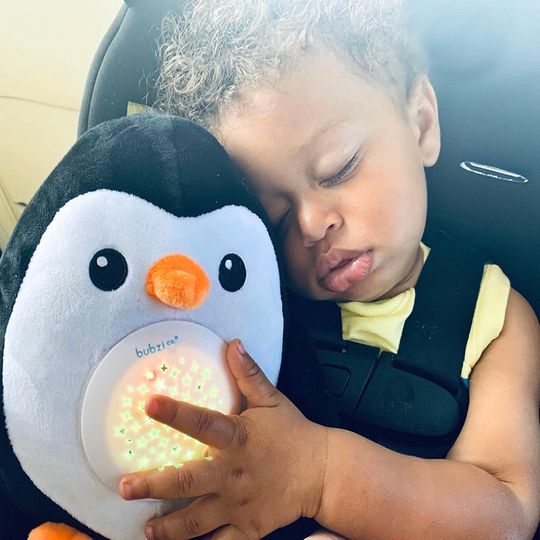 You'll Take It Everywhere
Take this baby soother along on car rides, stroller walks, tummy time, trips to family or anywhere else you think they would like a snuggly companion to help them feel safe and calm. That's why you should take advantage of our Buy 2 or Buy 3 offers!
The Owl plays 10 different instrumental songs such as; Minuet, Brahms Lullaby, Are You Sleeping, Baa Baa Black sheep, Home Sweet Home, American Patrol, Mary has a Little Lamb, Oh My Darling, London Bridge is Falling Down, and Hush Little Baby. It also includes white noise, a natural bird song and a heartbeat sound to calm and settle your baby.
Yes! We provide 3 AAA alkaline batteries and a small screwdriver so you can use it right away.
Our Bubzi Co Owl Soother is set to not exceed 50 decibels. It has 5 volume levels so you can adjust it to suit your baby. Hope this helps
Both the lights and lullabies turn off after 30 mins
Like with all baby products, we do not recommend placing the soother inside the crib without fastenings. It can be placed outside the crib on a dresser, table or chair etc. When your baby is old enough, you can introduce it inside the crib as a lovey if you choose
Yes you can remove the electronic component and hand wash the owl.
Upon checkout, you can choose how quickly you would like your Bubzi to ship. Standard Shipping is up to 5 business days, Express is 2-3 days and Priority is 1-2 days.


Our fulfillment warehouses are all over the USA so ordered are
processed the same day.
Bubzi Co x Baby2Baby One For One Program
We've partnered with Baby2baby to help parents in need across the USA.
For every purchase on our website, we donate one of our Premium Nasal Aspirator to a family in need via Baby2Baby. Nasal Aspirators are an essential for every baby, so we're grateful to be able to help new parents through this amazing organization. Find out more about Baby2Baby here.
Our Products Are Designed With Love To Help You